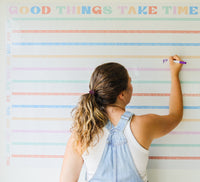 The Mission
On average we look at our reflection eight times per day and
91% of us do not like the way we look. We tell ourselves a
negative story that we aren't worthy or beautiful—which isn't
true! Moxie Mirror's mission is to interrupt intrusive thoughts
with reminders that your worth lies far beyond the mirror.

Revolutionize your relationship with the mirror.
STICK IT. LEARN IT. LIVE IT.